Rise Against Hunger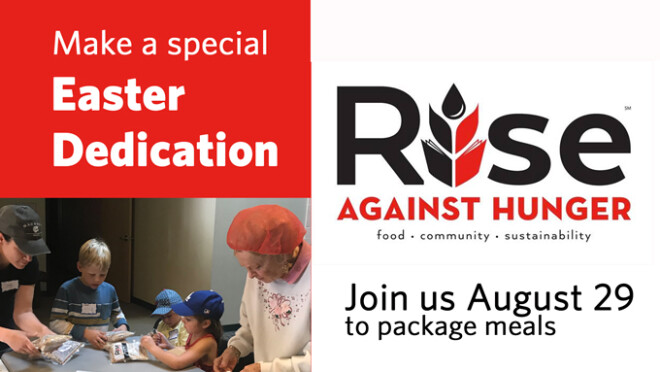 Saturday, August 29, 2020, 10:00 AM - 12:00 PM
Please Note: In an effort to do our part to stop the spread of the Coronavirus (COVID-19), our Meal Packing Event that was originally scheduled for April 25, will be postponed to August 29. We are still accepting donations and you can make a special dedication in our Easter Sunday bulletin.
Rise Against Hunger is an international hunger relief organization that distributes food and life-changing aid to the world's most vulnerable. 150 volunteers can package 32,000 meals in about two hours. Each meal is nutritiously sound - fortified with 21 essential vitamins and nutrients. We need to raise just 33 cents for each meal. The more we raise, the more meals we can package and the more people can participate. Sign up here for our Meal Packing Event.
You can make your donation online (choose Easter Project/Rise Against Hunger). If you would like a special dedication in our Easter Sunday bulletin, please indicate in the notes of your online donation. You may also make your dedication on Sundays in church. All dedications must be received by Sunday, March 29 to be listed in our Easter Sunday bulletin.
Let's make a difference in the lives of others!!