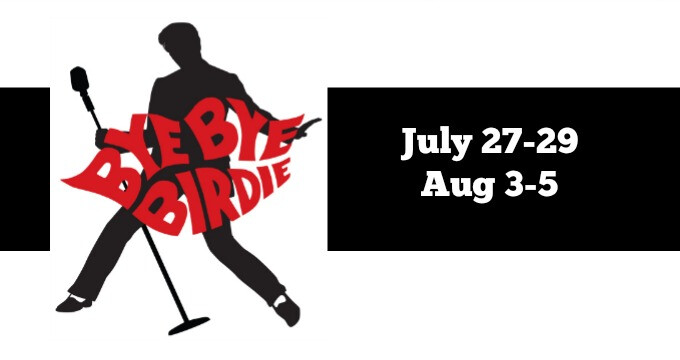 When the draft selects rock star, Conrad Birdie, his fans are devastated, but none more than struggling songwriter, Albert Peterson, whose song Birdie was just about to record. Albert's longtime girlfriend, Rosie, pushes Albert to write a new tune that Birdie will perform on television to a fan selected in a contest. The scheme works, with young Ohio teenager, Kim McAfee, declared the winner, but no one has counted on the jealous wrath of her boyfriend.
Regular Performances:
Friday, July 27 at 7pm
Saturday, July 28 at 1pm & 7pm
Sunday, July 29 at 1pm
Friday, August 3 at 7pm
Sunday, August 5 at 1pm
Tickets are $12 each
Dinner Theater:
Saturday, August 4 at 6pm
Tickets are $30 each
Tickets go on sale Sunday, July 15. Check back soon for the link to purchase tickets. We hope you can attend!