7pm Thin Spaces Women's Study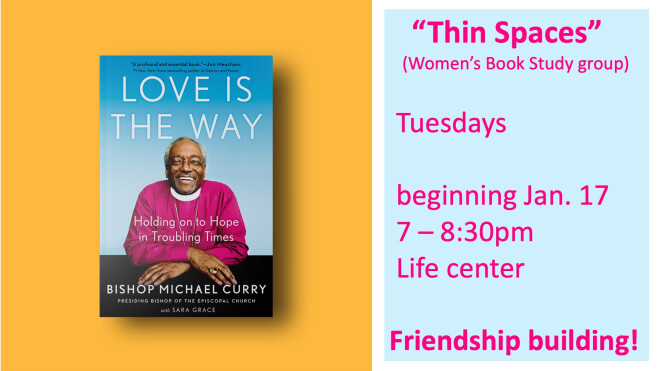 Every Tuesday, from 01/17/2023 to 02/21/2023, 7:00 PM - 9:00 PM
Start off rejuvenating & reflecting this year by reading a fabulous book by Bishop Michael Curry, "Love is The Way." Curry is currently the presiding bishop of of the Episcopal Church in America. His book is filled with stories, wisdom and responses to life which highlight Jesus as our model. This book can be purchased via Amazon or at Barnes and Noble.
All women are invited to meet on Tuesdays at 7pm in the Life Center, beginning Jan. 17. Please have read chapters 1 & 2 by Jan 17. Our plan is to read 2 chapters each week. If you're already in this group, you should have received an email about attending. If you are not in the group, click here to join.
Questions? Please contact Jeannie Mooney.