7pm Lent Study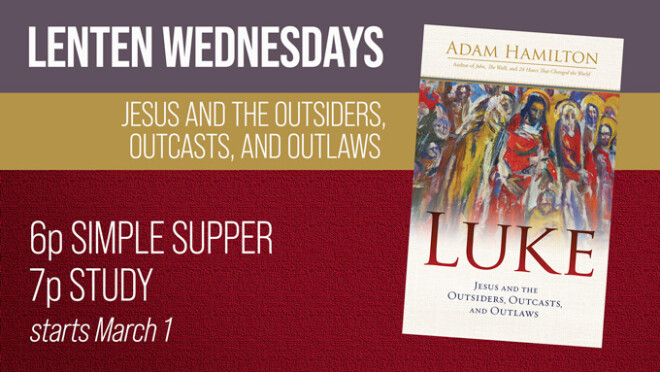 Every Wednesday, from 03/01/2023 to 03/29/2023, 7:00 PM - 8:30 PM
All are invited to join this churchwide study by Adam Hamilton, Luke: Jesus and the Outsiders, Outcasts and Outlaws. Pastor and bestselling author, Adam Hamilton explores the life, teachings, death, and resurrection of Jesus as told in the Gospel of Luke. Through Luke's stories we find Jesus' care and compassion for all as He welcomes sinners and outcasts. As we study Luke and see Jesus' concern for those who were considered unimportant, we hear a hopeful and inspiring word for our lives today.
This 5-week study will meet on Wednesdays during Lent at 7pm in the Worship Center to watch a video before breaking into small groups around campus. An online option is also available. Child Care will be provided.
The study will also include a 40-day daily reading plan for the book of Luke to use during the season of Lent. You will receive this and the book after signing up. Click the link below to sign up.
Don't forget to come early on Wednesdays for dinner! Simple Suppers (soup, salad, bread and beverages) are served between 6-7pm in the Joy Center. The dinner is free, but donations will be accepted for the various ministries who will be hosting.