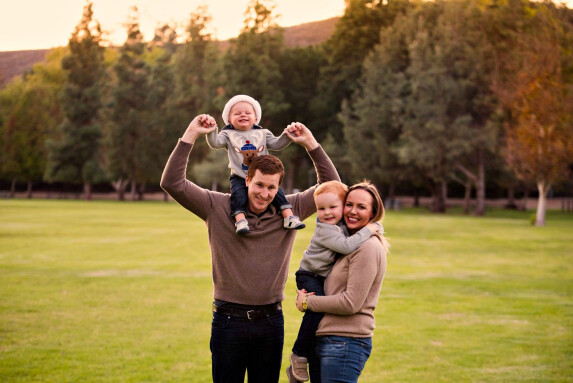 Hi, I'm Angela. Thanks for visiting this page! Whenever I'm looking for information about churches, I always check out the Pastor's bio page—so you are in good company. I hope you find what you're looking to learn!
My family and I came to Messiah in July 2015 after I served as solo pastor of St. Philip Lutheran Church in Glenview, Ill., a North Shore suburb of Chicago. We are so happy to be here in Orange County, and we're enjoying all the community has to offer, especially outdoor sports and activities. We've spent time on the West Coast before: living in Northern California and Las Vegas, where I served a pastoral internship at Community Lutheran Church
Prior to attending Luther Seminary in 2009, I worked for five years as a sports reporter for newspapers and magazines. I have a Magazine Journalism degree from the University of Missouri—Columbia (Go Tigers!), and I still have a passion for writing and telling stories. As a sportswriter, I covered almost any sport you can imagine: from the 2009 Super Bowl, to serving as a beat reporter for a pro hockey team in South Florida, to Major League Baseball, to Senior Olympics, to the 2005 Final Four, to cutthroat Florida and Las Vegas high school football. I had a story in Sports Illustrated in 2007, and I continue to blog about sports and social issues whenever an issue arises in the sports world that begs a faith-based perspective. I blog at Overwhelming Jesus, and I am also a frequent contributor to Sojourners and Red Letter Christians. I'm passionate about shining the Gospel light of truth and justice onto all the pressing issues of our time and our world—showing that Jesus indeed has a relevance and a voice in America in 2016.
As a full-time pastor and former sportswriter, now my sports time is mostly spent playing - not working. My husband, Ben, and I met playing pick-up basketball at Mizzou, and neither of us will ever turn down a game. I'm also an avid beach volleyball player and enjoy yoga and pilates. After recovering from an ACL tear in 2013, Ben has regained his ability to dunk and is enjoying basketball on his lunch break in Irvine, where he works as a plumbing engineer. We have two outgoing and (mostly) delightful boys ~ 4-year-old, Jacob, and 1-year-old, Joshua.
My favorite part about Messiah is a palpable sense of joy that permeates the entire campus. Too often the Church has been a cold, foreboding and inhospitable place; where people are loath to enter. This isn't what Jesus intended—and it's not what we promote at Messiah. Our focus is on the Jesus Ethic from the Gospel of Matthew: Love God and Love One Another. We may fall short at times, but our goal is that all our actions and speech as a church and a community are grounded in that unbreakable love of God. As a Pastor here, I'm glad to walk through both the valleys and the mountaintops with all who come through our doors (or merely visit our website)—discovering together where Jesus is leading our church and each of us as individuals in the days, months and years ahead.
Come visit me anytime: my office has some comfortable seating and even snacks! And if you have a prayer request or just a question, about God, faith, sports—anything—don't hesitate to ask. Call or drop me an anytime. I look forward to seeing what God is doing in you this year, and how I—or Messiah—can be a part of it.