6:30pm Messiah Book Club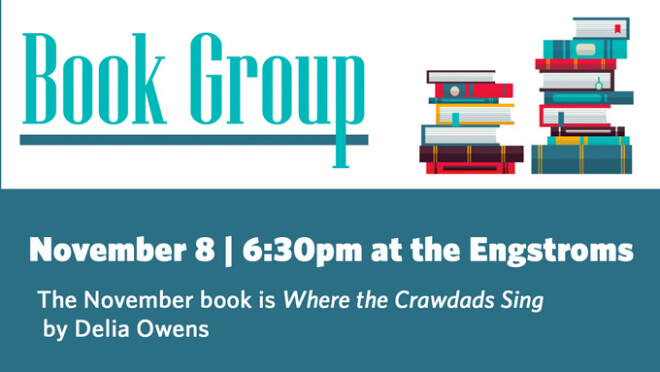 Friday, November 08, 2019, 6:30 PM - 9:00 PM
The book we have chosen for November's gathering is
Where the Crawdads Sing,
by Delia Owens. "For years, rumors of the "Marsh Girl" have haunted Barkley Cove, a quiet town on the North Carolina coast. So in late 1969, when handsome Chase Andrews is found dead, the locals immediately suspect Kya Clark, the so-called Marsh Girl. But Kya is not what they say. Sensitive and intelligent, she has survived for years alone in the marsh that she calls home, finding friends in the gulls and lessons in the sand."
You are invited to the home of Wayne and Kathie Engstrom on Friday, November 8 at 6:30 for dinner and a discussion of the book. You can reply through Messiah Connect or call them at (714) 485-2581. Their address is 4411 Avocado Ave. Yorba Linda. You will be asked to bring an appetizer, salad or dessert and your own beverage.
On December 13 there will be a Christmas gathering at the home of Helen Davis. We will not have a book discussion that night, but can bring books to share.
Future book selections:
January 10 -
The Infinite Tides,
by Christian Kiefer. We will be hosted by Jan and Jim Strand.
February -
Songs of Willow Frost:
A Novel
,
by Jamie Ford.
March -
The Only Woman in the Room:
A Novel
,
by Marie Benedict.