Conversations about Race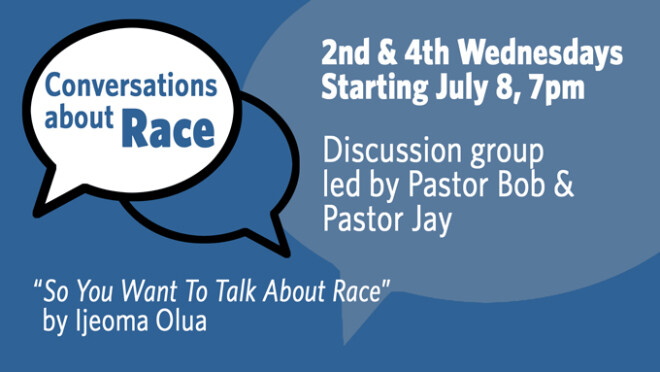 Every Wednesday, from 07/08/2020 to 09/16/2020, 7:00 PM - 8:00 PM
Messiah has launched a discussion group to listen and learn about the effects of racism in our society.
At Messiah, we strive to live each day loving God and loving one another; just as Jesus loves us! As God's children and in response to the recent events witnessed within our communities and country, many of our hearts are hurting and we are asking how to move forward with love and kindness.
As a first step in this process, we are reading together and discussing Ijeoma Olua's best-selling book "So You Want To Talk about Race."
We are adding a Zoom option for participation in the group, covering the same discussion material as the in-person group but on alternating weeks. We are meeting on the lawn at Messiah the 2nd and 4th Wednesdays of the month and on Zoom the following Wednesdays, beginning July 15. Pastors Bob and Jay are serving as facilitators, but not as teachers.
The goal of both listen, learn and understand about racism in our society; how racism has impacted the lives of people who have experienced its effects directly; and to direct our mission of loving God and loving one another to this challenging aspect of our lives. We will be reading and discussing the best-selling book So You Want To Talk About Race by Ijeoma Olua.
After reading this initial book, we will do a study based on a biblical/church perspective, giving us a theological lens to think about the stories we have heard.
We pray that this will help us more fully understand what it means to love one another as God has loved us.
We invite you to join us online or in person.