3:00pm Messiah Book Group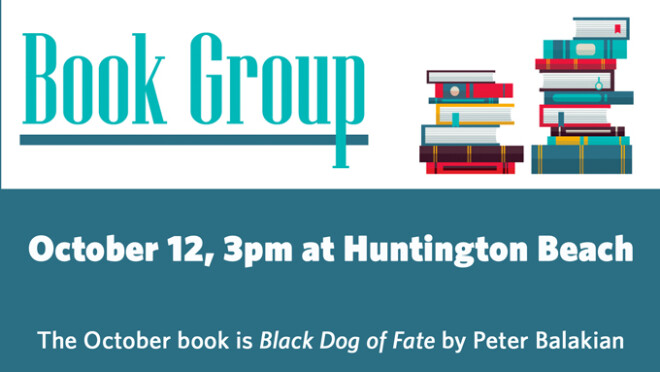 Saturday, October 12, 2019, 3:00 PM - 9:00 PM
Our book for October is Black Dog of Fate by Peter Balakian. "In this prize-winning memoir the author explores his suburban baby-boomer childhood and charts his slow uncovering of the truth of what happened to his family during the Armenian Genocide at the hands of the Turkish government in 1915."

We will be meeting our hosts, Donna and Jim Larson, at Huntington Beach, at about 3:00 p.m., for a beach dinner and discussion. We will use the Magnolia entrance because sometimes the Brookhurst entrance is closed. Enter at Magnolia entrance, (you can ask there if you want help finding the Brookhurst berm Ramada C) and then drive the parking area - do not exit, and go past the Brookhurst entrance which is south toward Newport Beach almost to the end! Look for the Ramadas (cabana like), the bathrooms etc. Look for the Swedish flag. Donna and Jim will greet us there.

We will meet at Messiah at 2:00 p.m. in order to carpool, unless you make other plans and let me know about them. Parking is $15.00 per car, unless you have a State Park pass, which is another good reason to drive together. Please call me (cell phone) (562) 644-2431 and tell me if you can offer a ride or if you need a ride. We don't want anyone left behind!

You will need to bring a blanket and chairs and your own cups, plates, and utensils. Also bring your own drinks. If you have roasting sticks or forks bring them as well. If you want to call Donna or Jim for any other info, their numbers are: Donna (714) 457-1461 or Jim (949) 243-6638.