8am Women's Hike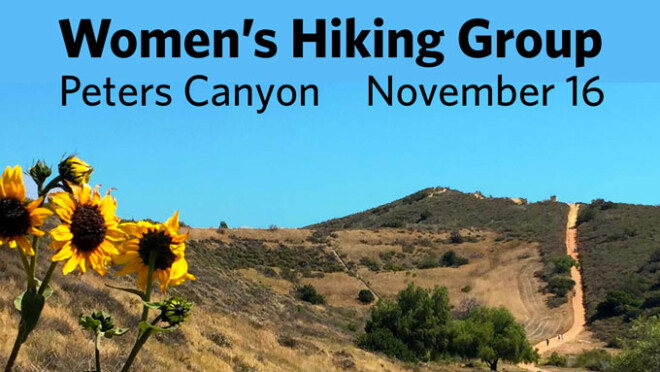 Saturday, November 16, 2019, 8:00 AM - 12:00 PM
Join the journey on the Peters Canyon Loop Trail! We will meet at 8am in the parking lot of Peters Canyon Trail for a 6.5 mile hike (medium difficulty). The parking lot is at Jamboree and Canyon View Ave. Parking costs $3 (with credit card).
Check out the details of the trail with pictures as well as the history of the area and the 2 reservoirs here:
https://socalhiker.net/hiking-peters-canyon-loop-trail/
We are doing this hike from the official parking lot on the NORTH side, though the link that is attached talks about starting from the south side.
Following the hike, whoever would like can grab coffee and snacks at Tru Bru Coffee just down the road, on the edge of Orange Park Acres. Hope to see you!
If you are NOT already a member of the Women's Hiking Group, please join here and receive all future information.
To get more information please contact Jeannie Mooney here.