Family Camp at Holden Village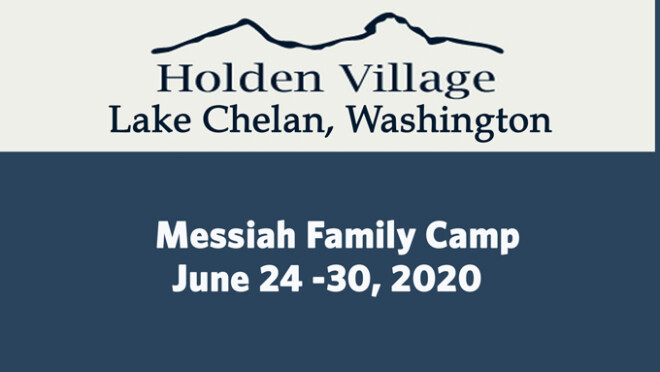 Daily from 06/24/2020 to 06/30/2020
Messiah is excited to have the opportunity to go to Holden Village!
June 24 stay in Chelan, WA June 25-30 at Holden.
ALL MEMBERS of a group must arrive and depart on the same days
SIGN UP TODAY! (Deposit of first night cost due is due by November 25). We have 30 spots reserved on a first-come basis. To sign up, email Pastor Bob.
$85 per adult / per night. $65 per youth (6-17) / per night. $32.50 per child (3-5) / per night. Children 2 and under are free.
Over the course of 50 years, Holden Village has been transformed from a copper mining town to a vibrant place of education, programming, and worship. It has been a rich journey of faith. Holden welcomes all who seek contemplation and community in the remote wilderness of the beautiful Cascade Mountains. We invite people of all ages to come and experience our rhythms, which inspire and equip travelers to continue a sustainable life of faith outside the Village. And we continue to listen to and reflect on our story and history as we seek to discover our place in God's creative mission in our world.
Look up more information about Holden here
What you need to know:
LODGING
Most guests are housed in lodge rooms that comfortably accommodate 2-4 people. Bathrooms are down the hall. Families may be housed together with shared living and sleeping rooms. Bed linens and towels are provided. The Village has a number of wheelchair accessible rooms.
FOOD
Known especially for its homemade soups and fresh bread, the Holden kitchen provides three hearty and nutritious meals a day. Holden's diet utilizes mainly local & organic produce, whole grains, legumes, and occasional fish & meat options. The Holden kitchen is very accommodating to dietary needs. Bread, peanut butter & jams, fruit and beverages are available around the clock.
AMENITIES
Holden's facilities include a sauna, children's playground, bookstore, post office, ice cream snack bar, historical museum, library, hike haus, pool hall, craft, loom & pottery studios, and a bowling alley. Access to some of these facilities depends on the time of year (the bowling alley, for example is closed from October-May to conserve electricity), however, during the winter months, Villagers transform the Dining Hall into a vibrant gathering place with board games, instruments, ping pong & pool tables, and lively conversation.
REMOTE LOCATION
Holden Village is one of the most isolated continuously inhabited places in the lower 48 states. The peace provided by Holden's remoteness is a great gift, but also a responsibility. It takes the better half of a day to get either in or out of the Village to the nearest town (Chelan) via the Lady of the Lake. There is no cell phone reception, or wifi available for guest use (a satellite phone is available in case of emergencies). We ask that all members of the community keep in mind Holden's remote location when planning a visit and enjoy this unique opportunity to unplug and unwind.