7pm Thin Spaces Women's Study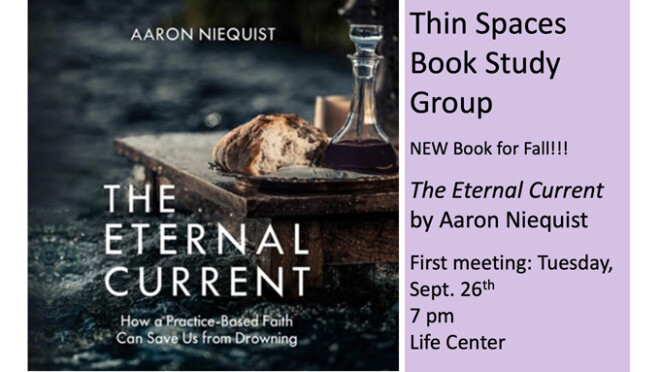 Every Tuesday, from 09/26/2023 to 12/12/2023, 7:00 PM - 8:30 PM
Join the "Thin Spaces" Women's Study Group this fall as they discuss The Eternal Current by Aaron Niequist! The first meeting will be Tuesday, Sept. 26 at 7pm in the Life Center.

The over-arching message of Niequist's book is "an impassioned call to move beyond spiritual observation into divine participation." With that description we will be examining what being part of a "church" meant historically and means today. Niequist compares the mighty river current to "the kingdom of God." Like a river current that is as a living, breathing thing, our faith is not to be static but vibrant and alive. Niequist has some practical ideas to propel this thought-process and action!

Please purchase The Eternal Current and read the introduction and chapters 1 & 2 by our first meeting on Sept. 26th.